COVID-19 surge: Chandigarh imposes weekend lockdown till 19 April; grocery shops to provide home delivery

Only executive magistrates and health, electricity, fire and police personnel will be allowed to step out of their homes during the lockdown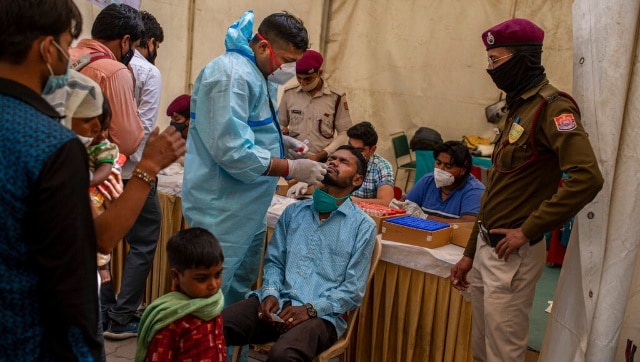 After Delhi, Chandigarh has also imposed a weekend lockdown to stop the spread of COVID-19
. The lockdown started from Friday, 16 April at 10 pm and will remain in force till 5 am on Monday, 19 April. People are advised to not to step out unless it is necessary or there's an emergency.
Here is the list of what is allowed:
– Law and order services, emergency duty and municipal services are allowed to function during the lockdown.
– Executive magistrates, health-, electricity-, and fire-personnel, and journalists with accreditation need to show their identity cards when out in the city.
– Services like ration shops and vendors, food, groceries, fruits, vegetable, dairy, milk booths, meat, fish, animal fodder can open but will only provide home delivery.
– Manufacturing units involved in essential commodities will remain open and will be given a restricted movement curfew pass. Such passes will also be issued to those who are getting married over the weekend.
– All medical-related facilities including vaccination centres, dispensaries, testing centres, pharmaceuticals, and medical equipment shops will function during lockdown and people will be allowed to visit these places.
Here is the list of restrictions during weekend lockdown:
– Gyms and spas will remain closed till 30 April.
– The movie theatres, transport facilities can run with 50 percent capacity.
– The residents must stay inside their houses during the lockdown period. Only essential activities will be allowed.
– Ban on social, political, cultural, religious events etc.
– Limited number of people can attend gatherings – 100 (outdoor) and 50 (indoor).
– Online coaching is permitted while libraries, museums, coacing classes etc, will remain closed.
V P Badnore, Chandigarh's administrator, said, "All corona related deaths must be specifically audited and reports sent. Sector 48 Hospital should be made fully functional, so that it can function as an exclusive Covid hospital. All hospitals must store enough oxygen, adequate vaccines, etc. along with required medicines".
The Chandigarh administration is providing assistance to coronavirus
patients under home quarantine. For any help please contact 0172-2752038, 2634074, 2738087, 9646121642, 97795-58282 & 70875-77447.
#COVID19 #surge #Chandigarh #imposes #weekend #lockdown #April #grocery #shops #provide #home #delivery