Nelson Mandela Day 2021 | Nelson Mandela: 'Warrior' of anti-apartheid movement, why did he say 'Madiba' about his 3 marriages, Nelson Mandela Day: remembering an anti-apartheid movement fighter
Nelson Mandela with Winnie Mandela on February 11, 1990 after his release after spending 27 years in prison&nbsp | &nbspPhoto Credits:&nbspAP, File Image
Headlines
Nelson Mandela is fondly called 'Madiba' in South Africa
Mandela became a symbol of anti-apartheid, apartheid worldwide
Apart from the movement, the personal life of Nelson Mandela was also in the headlines.
Nelson Mandela day: Africa's 'Madiba' Nelson Mandela has become a symbol of anti-apartheid, apartheid worldwide. In South Africa, he is affectionately called 'Madiba', which means father in the local language. Mahatma Gandhi's ideas of satyagraha and non-violence inspired Mandela, who once called for a violent revolution to get rid of apartheid, changed the direction of his movement. Today (July 18) is his birth anniversary, which is also celebrated as Nelson Mandela Day all over the world.
Winnie's role in Mandela's movement
It was Mandela's thinking and great ideas, due to which he is still alive in the minds of people. Nelson Mandela, the 'Gandhi of Africa', was a leader of a section of society that was often marginalized for many reasons, including apartheid. The story of his courage, patience, connection with the people, struggle for human values ​​established him as a great inspiration not only in Africa but in the fight against all kinds of discrimination in the world. Many incidents gave a new direction to Mandela's struggle, while the women associated with him also contributed significantly in this, in which Winnie Mandela is specially mentioned.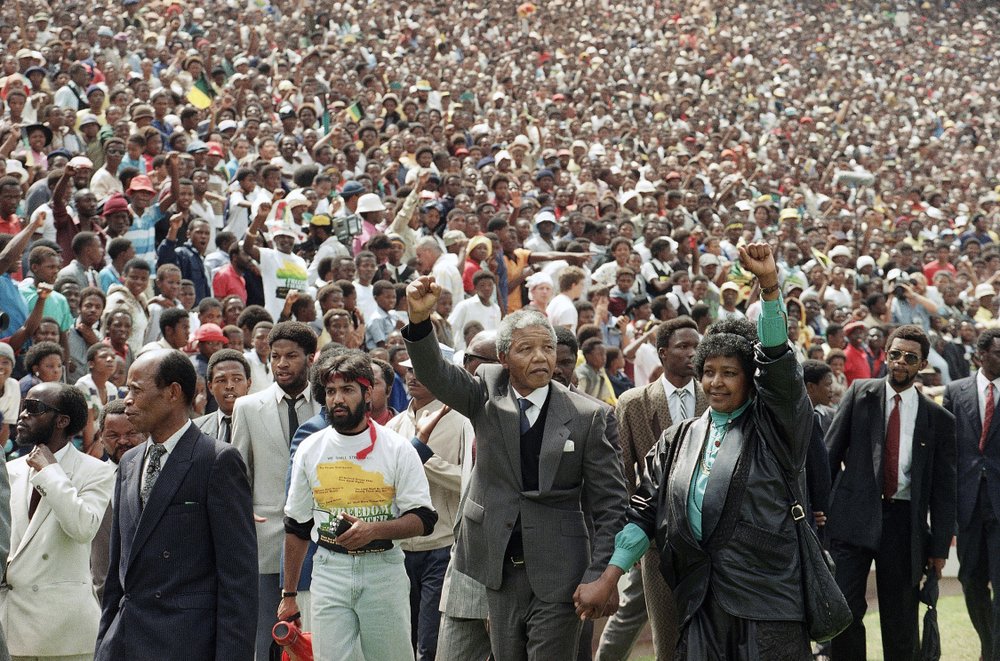 Winnie Mandela was the second wife of Nelson Mandela, who was 22 years younger than him. The love between the two blossomed when Mandela was facing trial for treason. Vini herself was also a social worker and the views of both played a vital role in bringing them closer. They were married in 1958, six years after which in 1964 he was sentenced to life imprisonment after being convicted of conspiracy against the government. Then Winnie carried forward Mandela's movement. During this time he had to face many sanctions, then he also had to face exile and imprisonment.
What did Mandela say on three marriages?
Mandela was released in 1990 after spending 27 years in prison, during which Winnie Mandela was seen holding his hand. However, later on the political and personal differences between them widened to such a degree that the two parted ways. Nelson Mandela had previously married Evelyn Mays in 1944, which lasted only 13 years and the two separated in 1957. He married for the third time at the age of 80 in 1998 to Grasa Machel, 27 years younger than him, who was the widow of former Mozambican President Samora Machel, who lost his life in a 1986 plane crash.
Nelson Mandela, illustrious in public life and a belligerent personality, once had three marriages that his father believed in polygamy, having four wives. He respected all the wives of his father like his mother and in his youth he never felt that there was anything wrong in having relations with many women. That thought of youth also played an important role behind his three marriages. At the same time, in public life other than private life, he is recognized internationally as a warrior who died only after ending apartheid from South Africa.

#Nelson #Mandela #Day #Nelson #Mandela #Warrior #antiapartheid #movement #Madiba #marriages #Nelson #Mandela #Day #remembering #antiapartheid #movement #fighter