Bigg Boss 15 Ott All you need to know about Pratik Sehajpal Ex Boyfriend of Pavitra Puniya
Pratik Sehajpal&nbsp
Headlines
Prateek Sahajpal has entered Bigg Boss 15 OTT.
After taking the entry, Prateek Sahajpal has started fighting with the contestants.
Prateek Sahajpal has been a part of many web series before this.
Mumbai. Model and actor Prateek Sahajpal has joined Bigg Boss 15 OTT as a contestant. Prateek Sahajpal has clashed with the contestants as soon as he enters the show. Prateek Sahajpal has once dated Bigg Boss season 14 contestant Pavitra Punia.
Prateek Sahajpal told the show's host Karan Johar as soon as he took the entry that he is Karma and has come to give fruits to everyone. If you do good you will get good and if you do bad you will get bad. Prateek further said that God is in all of us, who feels it, who doesn't, it depends on him. Prateek then clashed with the first male contestant. After this he started arguing with Shamita Shetty and Urfi Javed.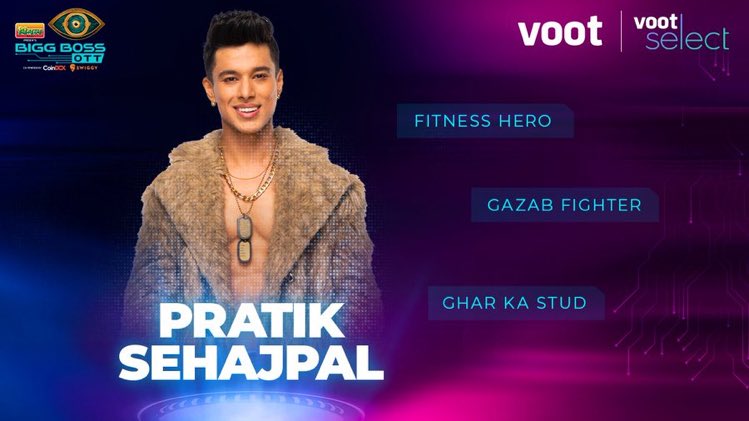 Was seen in these shows
Prateek Sahajpal started his career with modeling. After this, Prateek has appeared in Ekta Kapoor's web series Bebak. Apart from this, he was a part of reality shows like 'Love School 3' and 'Ace of Space'. Prateek Sahajpal had dated 14 years elder Pavitra Punia. Prateek said in Bigg Boss that it was a very toxic relationship. Both used to fight a lot. Once in a fight, he ransacked the house.
The breakup happened because of the bold scene
In a conversation with the Times of India, Prateek Sahajpal had said that Pavitra had refused him to do bold scenes. According to Prateek, 'Bold scenes have become common in the show these days. I have also come to make my career.
According to Prateek, 'I had really refused to do that role and had told Pavitra about it too. But still Pavitra fought with me. I am not saying that his thinking was wrong. When you love someone you become very possessive.

#Bigg #Boss #Ott #Pratik #Sehajpal #Boyfriend #Pavitra #Puniya