Bollywood News 4 July 2021, Bollywood News 4 July 2021 Bollywood News 4 July 2021, Kangana Ranaut Priyanka Chopra Fight, Akshay Kumar New film, Deepika Padukone Pathan Film Shooting, Akshay Kumar, Priyanka Chopra, Deepika Padukone Pathan film
Bollywood News 4 July 2021&nbsp
Headlines
Kangana Ranaut has targeted Priyanka Chopra.
Deepika Padukone has started shooting for Pathan.
Akshay Kumar will start shooting for director Priyadarshan's film from 2022.
Mumbai. Kangana Ranaut has once again targeted Priyanka Chopra. Kangana said that Priyanka Chopra has turned from a nationalist to a secular puppy. On the other hand, Akshay Kumar is going to work once again with Hera Pheri director Priyadarshan. Know today's big news of Bollywood
Kangana Ranaut shared a news related to Priyanka Chopra in her Insta story. Kangana wrote with it, 'It is not only in journalism but in every field. Priyanka Chopra has turned from nationalist to secular puppy. It is clear that she has become a fierce critic of Modi ji from his biggest fan. The thing is that the world dances for bread. There is freedom in your country, do whatever you want to do.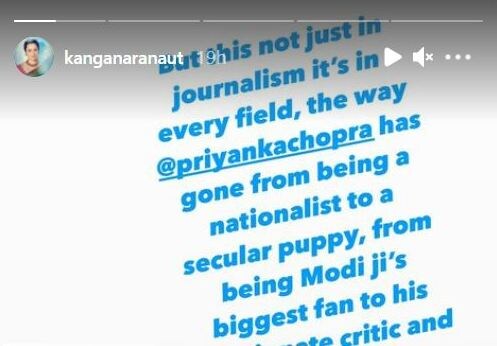 Akshay Kumar to do a film with Priyadarshan
Akshay Kumar has signed a new film with Hera Pheri director Priyadarshan. According to reports, Akshay Kumar will start shooting for this film in the year 2022. This will be a comedy film. According to Priyadarshan, he was about to start shooting for the film with Akshay this year, but due to Corona, he postponed this plan. Priyadarshan and Akshay Kumar have previously worked in Hera Pheri, Bhool Bhulaiyaa and Garam Masala.
Deepika Padukone starts shooting for Pathan
Deepika Padukone has started shooting for Shah Rukh Khan's upcoming film Pathan. Deepika's photo has surfaced from the sets of the film. According to reports, Deepika Padukone will be seen in the role of a RAW agent in the film. The schedule of this film will run from 15 to 20 days. Apart from Shahrukh and Deepika in Pathan, John Abraham is going to be seen in a negative role.
One month to Yami Gautam's wedding
One month has been completed for the marriage of actress Yami Gautam and Uri film director Aditya Dhar. Yami has shared some photos of the wedding on her social media. In the photo, Yam Gautam Jahan is seen in the bride's dress. At the same time, Aditya Dhar is seen in a white sherwani in the photo. Along with the photo, Yami wrote, 'One month of love and gratitude'.
Aamir Khan-Kiran Rao shared the video
Aamir Khan and Kiran Rao had announced divorce. After this, a video of both of them has surfaced for the first time. In the video, the couple assures their fans that they are happy where they are now.
Aamir Khan said in the video that obviously our fans are shocked but both are still family and always will be. Apart from this, the Paani Foundation is like his son Azad for him.

#Bollywood #News #July #Bollywood #News #July #Bollywood #News #July #Kangana #Ranaut #Priyanka #Chopra #Fight #Akshay #Kumar #film #Deepika #Padukone #Pathan #Film #Shooting #Akshay #Kumar #Priyanka #Chopra #Deepika #Padukone #Pathan #film